1Km Beam Flashlight Peetpen L80 – rechargeable Heavy-Duty USB torch Flashlight/torch. 900 lumens, /torch, IPX6 Waterproof, 2D-size cell(Included)

1 sold in last 12 hours
Estimated Delivery: Oct 03 – Oct 04
... people are viewing this right now
---

Peetpen L80 – Long Range Rechargeable USB Flashlight, IPX65 waterproof
As a USB flashlight, the Peetpen L80 is able to illuminate a distance of about 1km away. It has two brightness levels, low and high, and can run for up to 10 hours continuously in low mode or about 2 hours in high. The front of the flashlight contains a single switch that switches between the three modes(high, low & Strobe) and turns the light on and off, while also allowing you to dim the light's brightness. The flashlight comes with a single 2D lithium battery. Can also be powered with 2pcs D cells of Eveready batteries which are readily available in shops.
The Peetpen L80 USB torch features an aluminum alloy body designed to withstand various kinds of weather. The micro-USB port located at the front of the flashlight allows you to recharge its removable battery via a power source such as a wall outlet or computer. It is IPX67 rated, which means it's waterproof and can be used in rainy conditions. And because it comes with a 1-year warranty, you're bound to have peace of mind when purchasing it.
Summary:
900 lumens
Osram LED
about 1-km(about 1,000m) beam
Up to 10 hrs of uninterrupted illumination
Nodes: High, low & Strobes
Uses a single 2D battery
IPX67 waterproof(can withstand continuous immersion in water)
Warranty: 1yr
The package list includes:
1 PEETPEN L80 flashlight,

1 customized 2D battery (inside the flashlight),

2 backup waterproof O-rings,

1 user manual.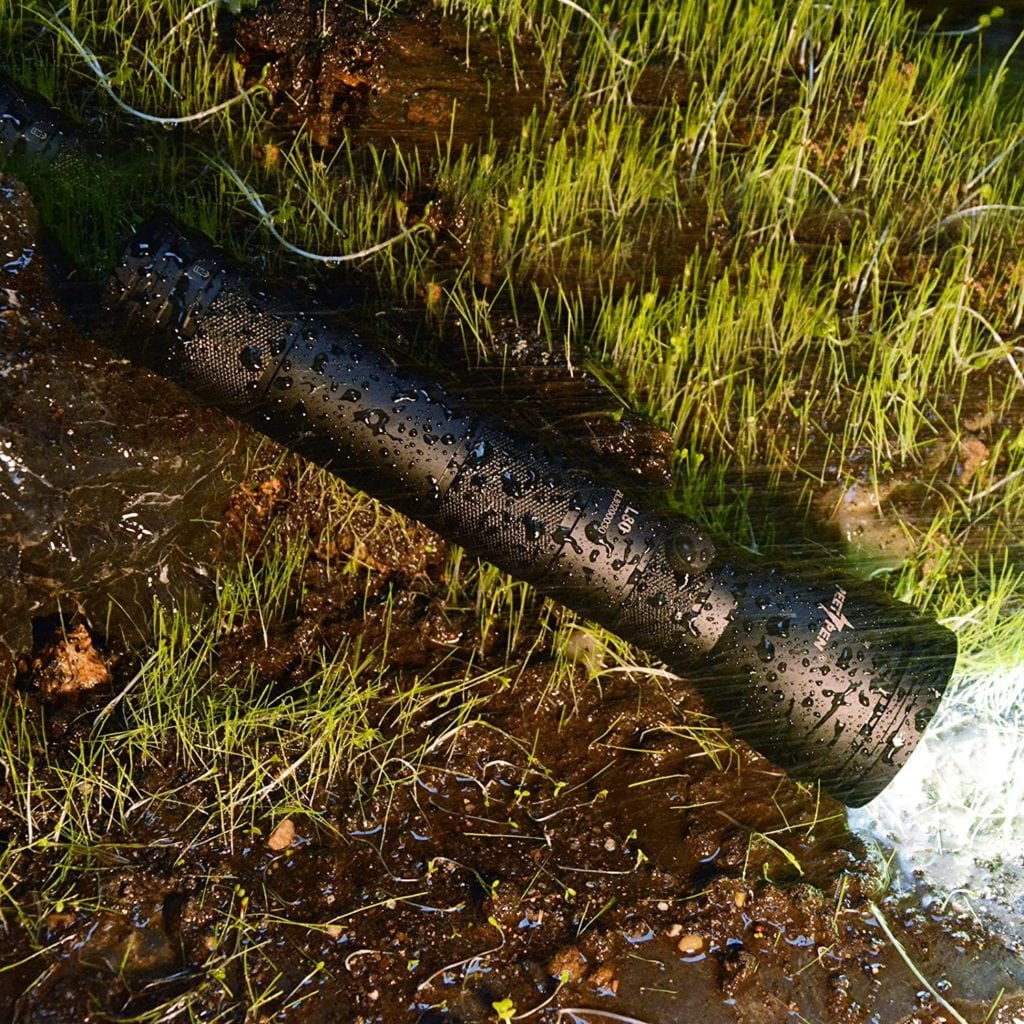 Satisfied
prompt delivery, trustworthy guy & value for
your money product.
Fantastic torch
What a brilliant torch, I charged it overnight when it arrived until the light turned to green and have used it lots of times without having to re-charge it once yet, it just seems to go on forever.
The adjustable brightness is very useful as is the lower power setting, I haven't used that yet, I've just been blasting everything on full power.