2000W, 9 fins Safest Oil room heater for bedrooms with babies, old and Sick people

4 sold in last 40 hours
Estimated Delivery: Oct 03 – Oct 04
... people are viewing this right now
---

2000W, 9 Fins

Oil Room Heater – safest & best room heater for bedrooms, sick people & babies/infants – Covers

200 sq. feet

room

Buying an oil room heater is a great investment for your home. It's not only safe for everyone in the house, it's also cost-efficient and long-lasting. With an oil heater, you'll never have to worry about the dryness of skin or suffocation, so they're ideal even for asthmatic people, newborns and pets. That's why doctors and pediatricians recommend them
SPECIFICATIONS:
Coverage: 200 square feet
Color: White
Fins: 9 fins
Watts: 2000W
Voltage: AC 220-240V
Heat-up duration: 5-15min
Has Tip-over & overheating protection.
Measurements: 600mm x 370mm
Material: Aluminum
Application: Indoors
Warranty: 1 year
We offer the best oil heaters on the market, and our 2000W model can heat up to 200 square feet of room. You won't need to worry about power consumption either—just twist a knob and set it to operate on either 800W, 1200W or 2000W to save energy. The other knob is for controlling the temperature.
The heater has Tip-over Protection. Once the heater tilts to a certain angle, the system will automatically cut off the power to avoid burning anything in case it falls. Additionally, this heater is equipped with an Overheat Protection System, which automatically shuts down the heater if it gets too hot. This prevents any damage from occurring and keeps you safe from possible burns or fires.
Remember that you can also sleep with this heater on in the bedroom while it's still running. The heaters we offer are made with a finned steel body that contains diathermic oil. That means your heater will always be quiet, energy-efficient, long-lasting and doesn't need to be refilled—and it will never run out of fuel!
If you want to move the heater from one room to another, no problem: This model has wheels for easy mobility.
And don't forget that our heaters come with a 1-year warranty!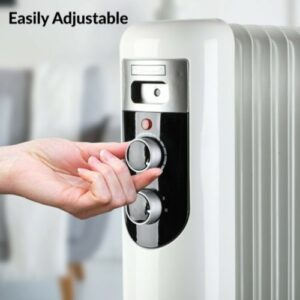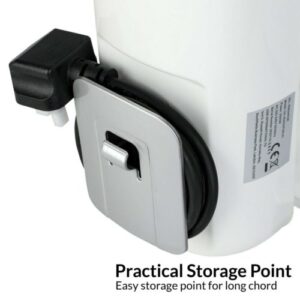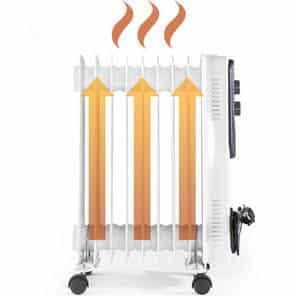 2000W 9 fins Oil Heater
The best investment for the cold weather and for warming baby's rooms.